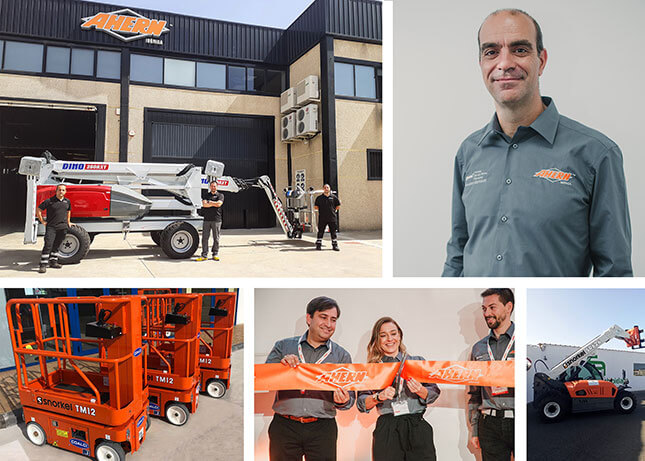 On 20th September 2020, Ahern Ibérica celebrated its one-year anniversary, since its official grand opening in 2019.
Unable to celebrate with an open house as originally planned, due to the COVID-19 restrictions, Ahern Ibérica is instead taking the opportunity to look back and reflect upon its many milestones and achievements in its first 12 months of operation.
After investing significantly in refurbishing its premises on the outskirts of Madrid, recruiting a professional and experienced team, and stocking the facility with new Snorkel lifts and a substantial warehouse of spare parts, Ahern Ibérica officially launched in September 2019, with the goal of providing fast, local support to the Spanish rental, construction and industrial sectors.
The opportunity to first deliver on this goal came on the same day as the official grand opening, when Barcelona-based rental company, Coalci, placed an order for 10 Snorkel TM12 mast lifts and a Snorkel S3010P for immediate delivery. As soon as the grand opening celebrations ended, the Ahern Ibérica team jumped into action to load the equipment that evening, and send the units on their way to Barcelona for immediate deployment in their rental fleet.
After this initial showcase of their customer centric approach, they continued in their journey to be the closest to the market with Ahern Ibérica's Managing Director, Enrique Garcia, making a personal commitment to visit every ANAPAT member. Despite the challenges of COVID-19, Enrique has visited 90% of the members within the year since opening the business, and is looking forward to completing this goal as soon as it is possible.
Ahern Ibérica enjoyed a strong start to 2020, and despite the impact of COVID-19 pandemic, the company has remained open throughout the year to maintain support to its growing customer base, and has adopted all necessary protocols to ensure the safety of its team, customers, suppliers and wider community.
During this period, Ahern Ibérica has also celebrated a number of milestones, including the delivery of the first Snorkel telehandler to Elevaciones Archipiélago in the Canary Islands, as well as recently becoming the exclusive official distributor for Dinolift in Spain and Portugal.
"The first year in a new business is both exciting and challenging," said Enrique Garcia, Managing Director, Ahern Ibérica. "However, we have also dealt with the extra challenge of a global pandemic, and yet we have exceeded our market share goals, and have gained impressive adoption of key models, such as the Snorkel TM12."
"I would like to thank all of our customers who have supported us during our first year, and look forward to continuing those relationships in the years to come. I would also like to thank our incredible team at Ahern Ibérica who have shown tremendous dedication and tenacity though this difficult year. It is truly a testament to the team that we have been able to exceed our goals and deliver continued excellent customer support despite the head winds."
Looking forward, Ahern Ibérica is ready to work with its customers through the recovery process.
"Our customers are hurting right now, from the impact of the pandemic," added Enrique. "We are ready to help them as they rebuild, with new products – such as the Snorkel S4740E, new families of lithium-powered Snorkel lifts; and of course, the Dinolift range – as well as rolling out finance programs to enable equipment delivery now, with payment later."