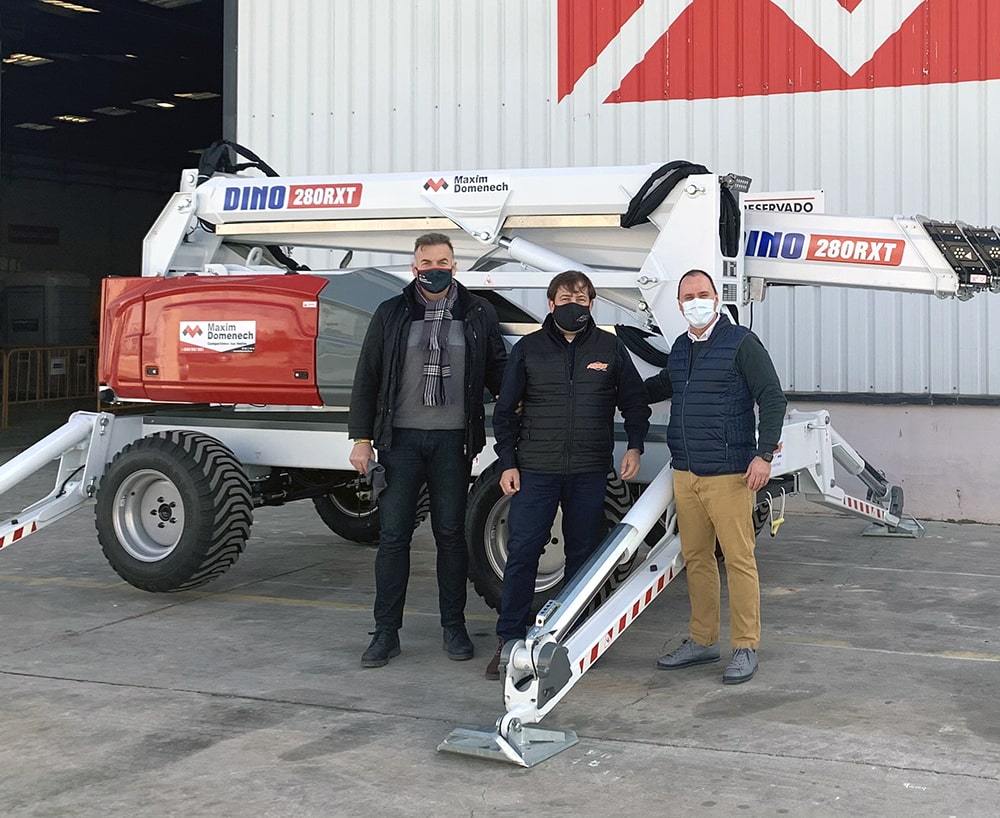 Ahern Iberica has delivered its first Dinolift model since being appointed the official distributor for Dinolift in August 2020 to Spanish rental company, Maxim Doménech.
Delivered from Ahern Iberica's stock in Madrid, the DINO 280RXT lightweight rough terrain articulated boom lift has a maximum working height of 28m, and a lifting capacity of up to 230kg, yet weighs just 4,860kg. The largest boom lift in Dinolift range, the DINO 280RXT is equipped with four steering modes and an oscillating front axle, as well as featuring automatic levelling capabilities up to 8° for working on uneven or rough ground.
Maxim Doménech who are the first Dinolift customer for Ahern Iberica, are a general rental company with a growing high reach equipment fleet. Headquartered in Alberic, Valencia, Maxim Doménach also has branches in Torrent, Alicante and Épila, near Zaragoza, providing coverage across southeastern Spain.
Jesús Domenech, Managing Director, explained why they chose to invest in the Dino 280RXT, "Dinolift has an excellent reputation for building very high-quality aerial work platforms. We chose the 280RXT for its compact dimensions and extremely low weight, while still being packed with fantastic features as well as impressive working height and outreach capabilities."
"We are confident this will be a very popular unit with our customers, and will deliver a high utilization across a long working life. We would like to thank Ahern Iberica for their help with this order, and we look forward to developing our relationship in future."
Enrique Garcia, Managing Director for Ahern Iberica, said, "At Ahern Iberica, we are proud to offer the Dinolift range of products and are very pleased to deliver our first unit to Maxim Doménech. The Dinolift models offer a real point of differentiation for our rental customers, and I am confident that this will be a great investment for many years to come. I would like to thank Jesús and the Maxim team for the trust they have placed in us."
For more information on Maxim Doménach, please visit www.maximdomenech.es.