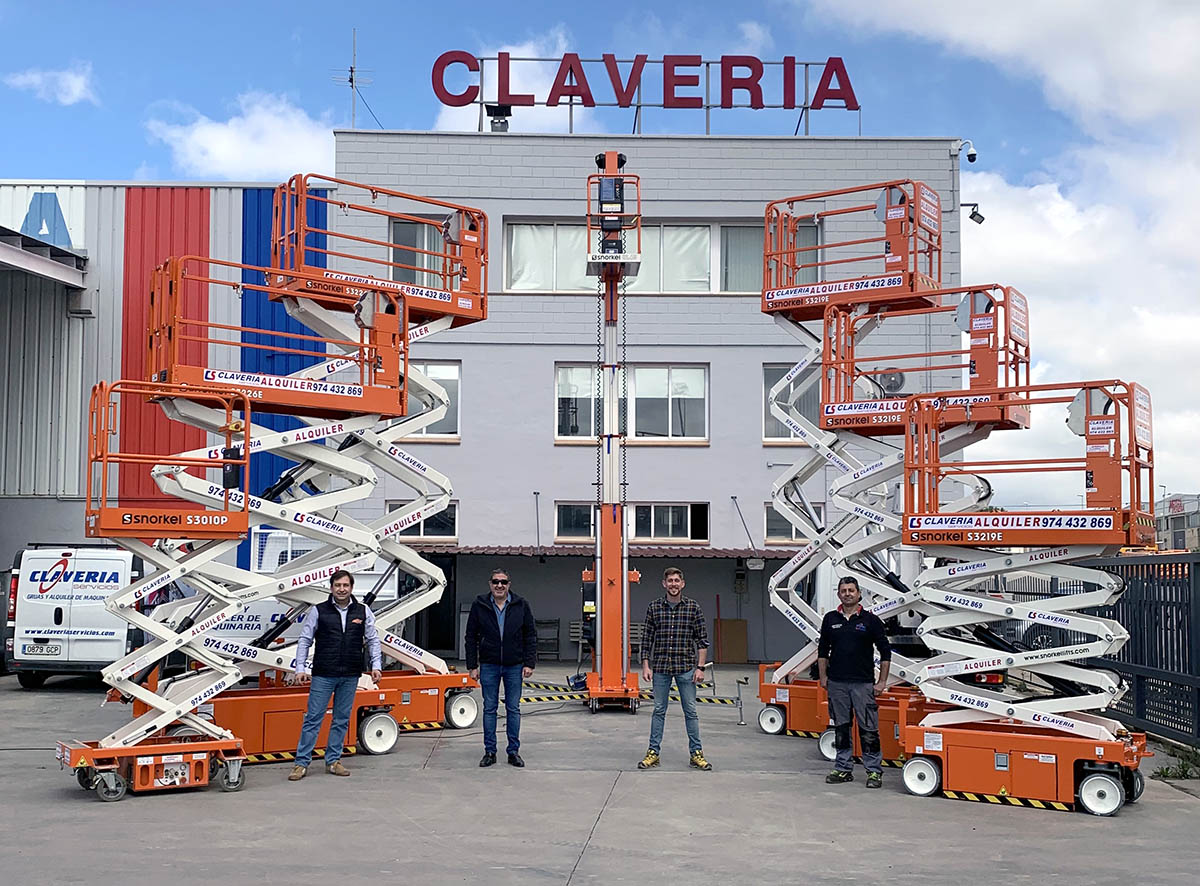 Spanish general rental company, Clavería Servicios recently took delivery of eleven new Snorkel lifts, delivered by Ahern Ibérica.
With more than 20 Snorkel units already deployed in their rental fleet, Clavería Servicios placed an order for eleven additional machines with Ahern Ibérica's Carlos Nieto, Territory Manager for Northern Spain. The mixed order includes five Snorkel S3219E and four S3226E electric slab scissor lifts, as well as one Snorkel S3010P push-around mini scissor lift, and a Snorkel UL40 push-around telescopic mast lift.
Clavería Servicios is based in Binéfar, in Huesca Province, Aragon in the northeast of Spain. They are a general rental company who was founded more than 30 years ago, and today operates a fleet of 1,000 pieces of equipment, with more than 100 mobile elevating work platforms, including a Snorkel S3219E which became their 1,000th unit in their fleet. They have four branches, located in Monzón, Barbastro, Fraga and Torrefarrera.
"Product availability in all categories is becoming more challenging, however we were delighted to discover that Ahern Iberica had everything we needed in stock at its Madrid branch, for fast delivery." Luis Clavería, owner of Clavería Servicios said of his recent order.
"We have been investing in Snorkel products for some time now, due to the excellent product quality and reliability, as well as the great service from the team at Ahern Ibérica. However, when we recently needed more equipment, we were concerned about possible lead times. Fortunately, that was not a problem and we already have many of the units out on rent."
Enrique Garcia, Managing Director at Ahern Ibérica, said, "We are grateful to Clavería Servicios for their continued business, and we are proud that they have chosen to expand their fleet with Snorkel products. We are also very pleased that our strategy to hold equipment inventory here in Spain has been able to help Clavería move forward quickly, while lead times globally are continuing to extend."
For more information on Clavería Servicios, please visit www.claveriaservicios.com.